Transporter vans, video cameras, and the new Five
It's that time of year again, change around time. The magazines are bombarded with press releases as the big guys churn out their latest bikes. Whether the changes are important is sometimes difficult to say, but we've seen so many clever acronyms, buzz words and so much sales jargon it's easy to gloss over genuine improvements and reject the hype. So when MBR and Orange wanted to take a different approach I was completely up for seeing how things could be done. MBR's plan was simple, get the scoop on one of the UK's most popular trail bikes, and Orange got some video to throw at the internet massif. Yes, they'll be doing the whole press release deal come today's official 'launch', but if pictures say a thousand words, video…well, video rocks...
Day 1-
With only the lax planning a British bike company can truly carry off we headed over to Glentress. For those who haven't heard of this place, it's one of the most established trail centers in the UK, with graded XC runs, skills areas and a freeride park. The trails are varied and well maintained; riding built for the Playstation generation, people who demand thrills every time they ride, guaranteed. So, in we rolled to the Glentress car park, me and Andy McCandlish in his VeeDub Transporter, complete with California fittings, our photographer for the day knows how to rock a pimped 'living space' equipped ride. A short wait with a pre-packed thermos flask and in rolls the Orange van. Today we've got one of the manager's from Orange Michael Bonney trying his hand at shooting a camera, Dave Flynn looking slick in white disco slippers, and MBR journalist and tech aficionado Alan Muldoon. So with nobody left to introduce, what's the obvious thing to do? Gear up, get riding and shoot some slick footage? Nah, lets head to the Hub for some breakfast, to be fair it was a long drive so we all deserved the break, ahem…
With the plan thoroughly worked through we headed up to the top car park, the idea was to get the bikes prepped and ready for some riding and get shooting on the trails. Things aren't always that easy though, Alan was keen to try a RockShox equipped Five with a prototype tune supplied by Torben at SRAM. The problem? It was all on the wrong bike, so a swift multi-tool executed fork and shock swap ensued. Watching these 'experts' work is always illuminating, should they be taking so long?!
Bikes ready and it's time to get a shooting. The Forestry guys and trail builders are always kicking round up there, so we thumbed down a pickup. The bikes were loaded with Michael, Andy and I jumping in the Transporter love bus to follow. Up the fireroad past the freeride area, log truck, reverse. Up the fireroad past the freeride area, log truck, reverse. Log lorries avoided and on we go, winding our way up to the forest to the top of Spooky Woods. But alas, one last fireroad hurdle for the mighty Transporter to clear, the steep section before the cut off to the heli-pad. Andy and the California package weren't to be beaten, wheelspins and chassis grounding apart, he flew to the top of the trails and showed off the all-mountain capability of his van, impressive stuff.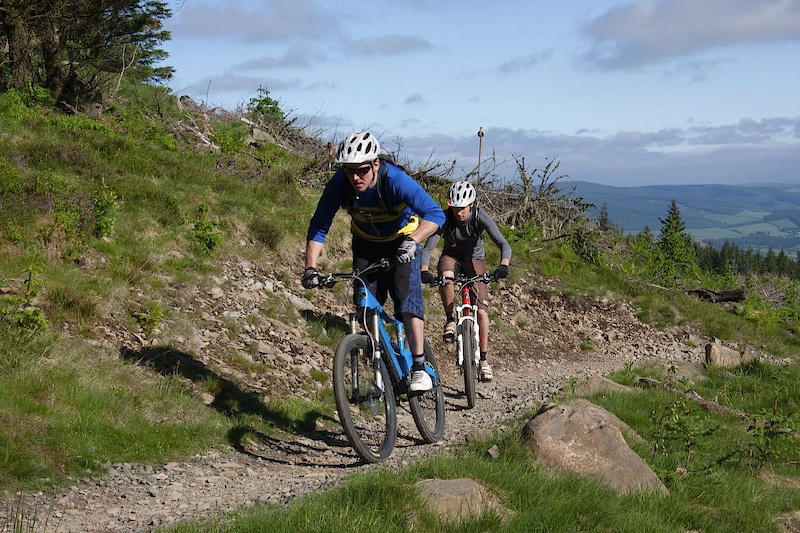 This is where the work finally began, as Andy and I set up for some shooting Alan and Dave went for a pedal to get used to the new Five. Both had quite a lot of time aboard the old bike so it was interesting seeing what they made of the changes. On the smooth, bermy, jumpy descent both could feel front end improvements with both riders pushing their bikes through compressions to get the most out of that frontal feeling. Bikes ridden, it was time to get to work for me and Andy Mac. "Another run please" were words regularly heard with amateur Andy taking time to set up his flashes as the boys played for my video camera. Sessioning the jumps at the top then hitting the berms lower down, Alan and Dave were having fun on the bikes while Michael and Andy clashed flashes in pursuit of the perfect nugget. MTBcut productions on the other hand did the biz first time, this is why video review is the future, all in the right hands of course…

As time flew by it was time to get Alan sat down and get the low down on the new bike. It's interesting to hear what the Orange guys have to say, but the point of this exclusive was to get an impartial look at the bike before the official release. Alan is more qualified than most on the merits of the bike with tons of experience riding other bikes and a Five of his own to run as a comparison to the new. The first obvious thing to mention is geometry remains unchanged, so everything that was good about the old bike still applied to the new. Alan described all this perfectly, the Five just opens up on the downs and gives everything you ask of it on the climb. I ride a Five for a similar reason, it rocks for the all-rounder, but Alan articulates it better than me so watch the vid…

Day 2-

Trail center terrain covered, it was time to get the bike opened up on some proper natural terrain, so after a good night sleep we decided to go riding on one of my favourite hills just outside Stirling. I knew the mix of terrain would make this place perfect, gnarly rock sections, high speed grass sections with natural jumps and gaps, and technical climbs to get your sprint on. Not only was today's riding more diverse, so were the subjects. Joining Alan and Dave was none other than our favourite trials weapon himself, the big deal, Danny MacAskill. Known for his trials capers on a kid's bike, Danny also rips on the hills, and despite a night nailing flairs at an Edinburgh skatepark, he was out to have a laugh. Then we had MTBcut team rider and all round nice guy Joe Barnes to show us how to smoothly smash your way down a hill on the Five, "smoothly smash" may not make sense together, but watch and learn. Finally, we had Liam Moynihan along to join in the fun and chase Joe down the hills where nobody else could keep up.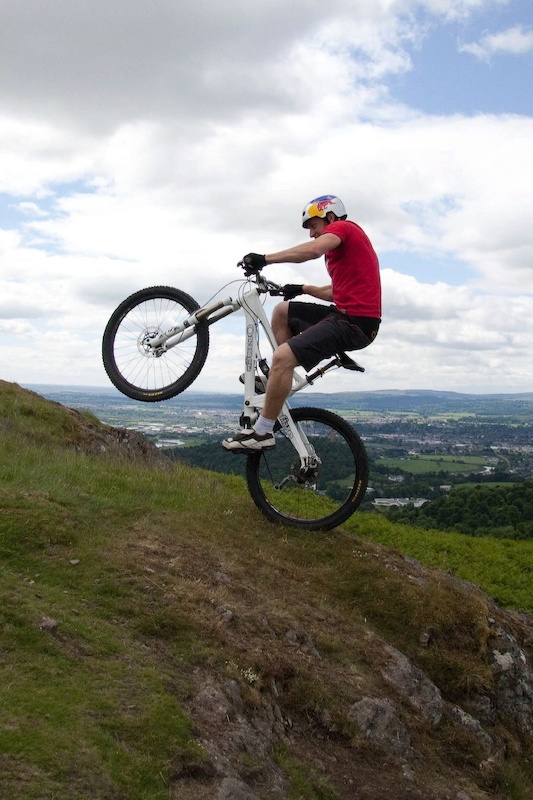 The video tells the story of the day pretty well, but basically we rode, scrambled, hopped and hiked our way up the hill. Some pushed, some rode, but Danny always impressed with his infectious laugh and ability to scale any old boulder field you put in his path. Impromptu dives into the heather accompanied by motorbike noises made everyone realize he isn't without issues, but watching Danny ride is one of the most impressive, amusing and rewarding parts of any trip. He cranks and hops until his bike stops on the climbs, then out of nowhere he'll put in a couple of cranks and power himself up any gradient, and while he'll do it he laughs continually, impressive and ever so slightly annoying.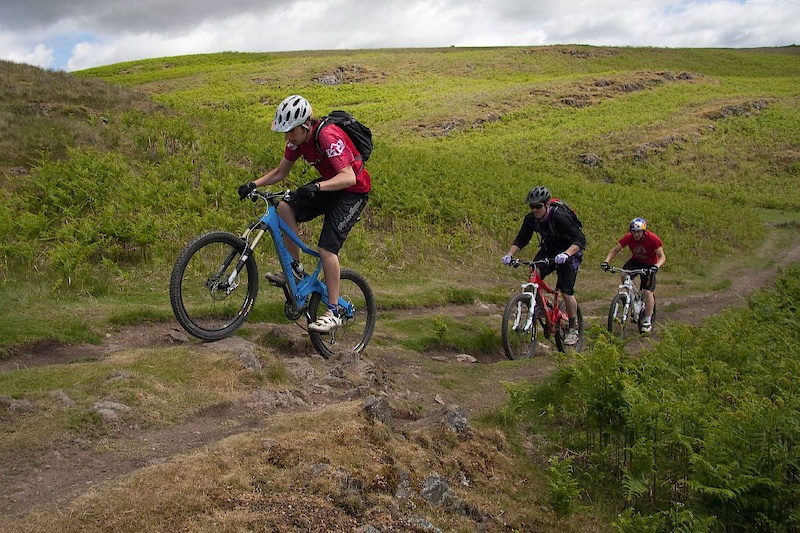 While everyone else played, Orange employee and bicycle rider Dave Flynn gave some info on the new bikes, what's changed, what hasn't and a whole spiel on options. You can build a Five pretty much completely custom right out of the box, there really is no point wasting your time upgrading when these guys can do it from new. Joe then joined in the action giving his opinion on the Five. Joe rides the old model for pretty much everything, the 2011 bike gives him everything he loved in the old, with new features that stiffen and future proof an already sorted bike.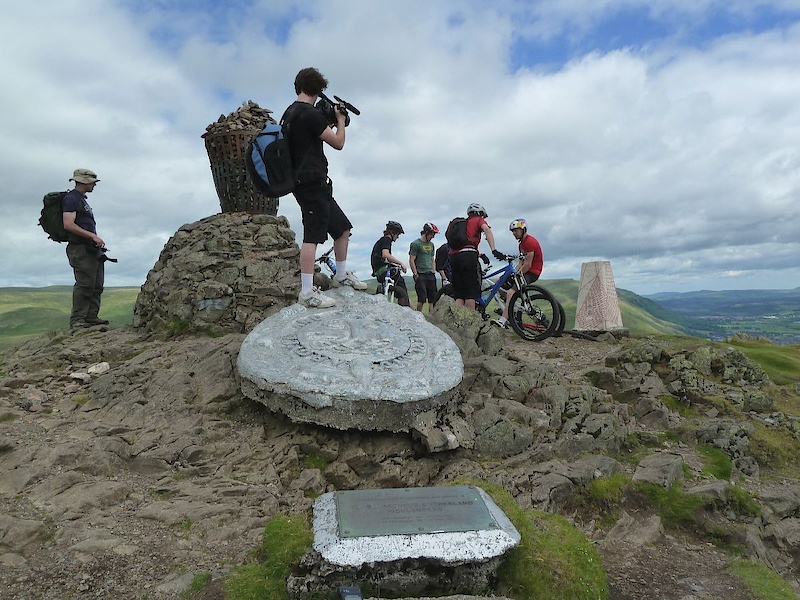 As the day progressed I wanted to film Danny go through a slight turn which was fast, and a little drop on to some super loose gravel in a narrow rut. He pushed up, confident, raring to go and most likely making motorbike noises to match his speed. Then it happened, he came in hot and the wheels slid, the front tucked under and Danny went down in the gravel hard. As he straightened himself up the grimace turned into a look of concern as he held out his bloody arm. Torn and tattered, Michael took him down to the van to clean up. It was pretty apparent it needed more than a squirt of a Camelbak bladder and he needed a trip to A&E. Danny being Danny wanted to head back up the hill, but with Michael concerned they headed into Stirling to get patched up. As it happened they needed to operate to get the muck out, grim for poor MacAskill.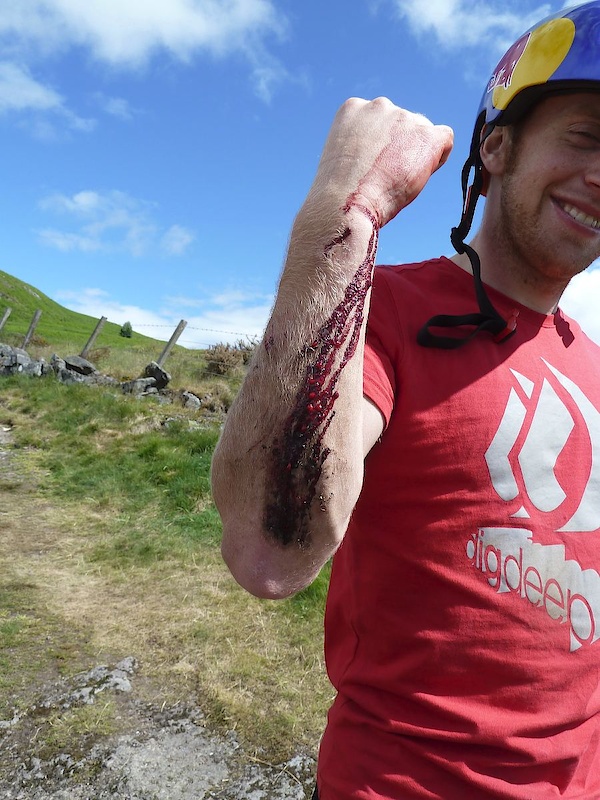 The day soon came to an end for the rest of us and as we rolled back into Stirling to collect an injured trials riding hero, we reflected on the two days. Bikes had been ridden, fast; bikes had been slammed off drops, hard; and bikes had been taken off jumps, high. At pretty much no point did a rider say 'stop', I can't do that on this bike. It's too steep, not enough travel, too heavy, too light, too flexy, nobody complained once, that's unusual, especially with finicky bike riding experts who are used to riding the best. This realization pretty much sums up the whole ethos of the Five, it just gets on with it. So read the press release, disregard the hype and instead get one out to demo. This trail bike totally rocks for 95% of trail riders, seeing the guys rip as I filmed the vid reminded me why I'm going out to rag mine tonight, it's ready for anything.
Stu Thomson
To read more about what Stu Thomson and the rest of the MTBcut crew get up to visit them on Facebook and their website.